Links to Other Bell Websites and Resources
We've tried to compile a fairly complete set of links to other bell sites, and you can connect with them under the following categories.
Print Resources
Some important books on the subject of Russian bells and bells and bell-ringing.
Recorded Music
All the cd's we know about.
Western European Traditions: Societies, Cathedrals, and Other Internet Resources
Here's a handy list of places to learn about Western bell traditions from the experts.
Danilov Monastery Bells at Harvard's Lowell House -- Harvard Crimson editorial archived at Johnson's Russia List
Western Bell Foundries
We don't really have any competitors when it comes to Russian bells, but there are quite a few good European bell foundries. Also in this category we provide a link to a place where you can sell your old iron bell, to replace it with a real one!

Museums, Carillons, and Other Cultural Resources
(Just what it says.)

Asian Campanological Traditions
Our site would not be complete without reference to the world's third great bell tradition!
European Traditions and Change Ringing
We think that by exploring these sites, you'll soon understand why the Russian method of ringing bells is so "striking"!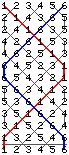 Dublin's Christ Church provides an interesting and informative description of the Western practice of "change-ringing", as does a series of articles on "Bells and Bell Ringing" by Dr Peter H. Mackie, Deputy Tower Captain at St Giles' Church in Stoke Poges, England.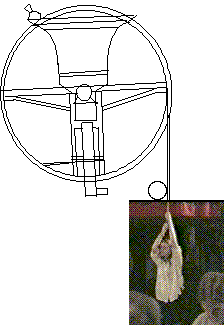 The .gif at the left is animated and shows how it's done. Here's a brief explanation: In the 16th century, ringers developed a system of full-circle ringing, so that the bell starts from a mouth upward position, swings through a full circle and comes to rest mouth upwards again, before swinging back again full circle in the opposite direction. When it was realised that ringers had some control over their bells' movement by varying the time during which it was held on the balance with mouth upwards, change ringing developed by pausing bells at the balance point and altering the sequence in they were sounded. This pause cannot be not long, so it is only practicable for a bell to change sequence with its immediate neighbour - a bell cannot "jump" two or more places in sequence, so tunes are not possible on bells hung for full circle ringing.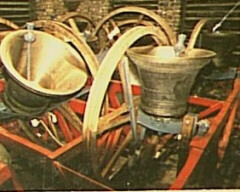 The bells begin by ringing a downward scale, i.e. they strike in order from the lightest to heaviest. This sequence is known as rounds and on eight bells would be written as 12345678. From this point, one of the ringers (the conductor) can call out the numbers of the bells which are to change position to obtain a new sequence - e.g. by calling "three to four" the sequence 12435678 is produced, and so on. This is known as call changes and is very useful for introducing learners to the bell control they will need to ring changes accurately. If you are listening to the bells you will recognise call changes easily, as the bells strike in almost the same sequence, with only slight variation in order, for some time. This is because the conductor allows the bells to settle down in their new sequence before calling another change.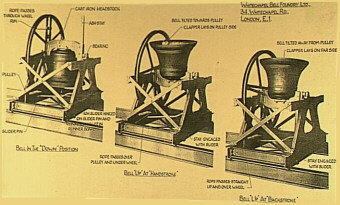 It's clear that the European, and especially British, tradition of change ringing is much different than the Russian tradition. In change ringing, a peal of eight bells is regarded as optimum, as they can be tuned to a full octave. They need to be equipped with the fittings to enable them to be rung full circle. Smaller churches may have fewer bells, and change ringers rapidly lose interest in towers with less than five bells or where full-circle ringing is not possible. On the other hand, some larger churches and cathedrals have more than eight bells; it requires a greater degree of skill to ring changes accurately on these higher numbers, and most ringers regard twelve as the maximum. Towers where sixteen bells are installed are regarded as a curiosity, although they rung regularly to a high standard by the local band.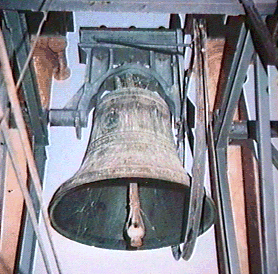 "The art of change ringing is peculiar to the English, and, like most English peculiarities, unintelligible to the rest of the world. To the musical Belgian, for example, it appears that the proper thing to do with a carefully tuned ring of bells is to play a tune upon it. By the English campanologist ... the proper use of the bells is to work out mathematical permutations and combinations" (Dorothy L. Sayers, The Nine Tailors). By contrast, in the Russian tradition, it's impossible to have too many bells, and rhythm patterns can be hugely varied, so that there are distinctive patterns, for example, for the visitations of the patriarch and of a wonder-working icon– and for just about any other occasion.
You can learn more about change ringing from this site at MIT .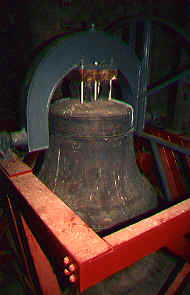 Read about Veronese bell ringing here, including an interesting description of Italian bell making. It is remarkable that two almost identical styles of change ringing have developed– aparently in complete isolation from one another– in England (see above) and in Italy, and yet are rather similar in some ways, so that a ringer trained in one system can quickly master handling a bell which is hung in the other. Italian change ringing, however, makes use of chords.
The Encyclopedia of Church Bells of Kent (England) includes lots of audio links. You'll be amazed at the difference between Russian and English rhythmic traditions! (To compare, click here .)
Other Bell Companies: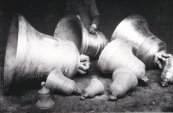 Petit & Fritsen, a Dutch foundry, provides many interesting glimpses of the European bell-founding tradition at its site, as well as a very nice, illustrated discussion of the actual process of making bells. (P&F has entered into a partnership with a Moscow company to make Russian bells. Much as we respect P&F for their fine bells, if you are interested in genuine Russian bells, we strongly recommend that you do comparison shopping. Contact us if you want the opinion of experts who are not on our payroll about this. There are bells– and there are Pyatkov bells!)
The Whitechapel Bell Foundry in England, which touts itself as "the world's most famous bell foundry"– effectively since 1420! "This website gives details of the range of bells and associated products and services we can provide, as well as details of the foundry itself, and the stories behind some of our more famous bells." Whitechapel cast America's "Liberty Bell" and "Big Ben", among others. Too bad this site has no pictures!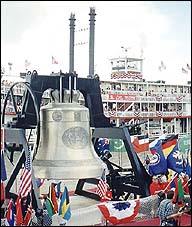 The Verdin Company: "As the world's largest supplier of bells, carillons and clocks, The Verdin Company has provided the sound of bells to over 30,000 churches and cathedrals. Our clocks beatify and enhance thousands of communities, colleges and public spaces throughout the world.... Today's state of the art 'Singing Tower'... exactly reproduces the sound of bells." Real bells and reproductions. The jpg at the right is a picture of the "World Peace Bell", the world's largest swinging bell and bell ringing equipment. It is 12 feet in diameter, weighs 33 tons, and resides in the Millennium Monument Pavilion of Newport, Kentucky. (This is pretty big but nothing like some of the huge bells of Russia. The main bell in Zvenigorod, for example (unfortunately lost during WWII), at 38 tons, was so big and had such a low tone that it was described as having a sound "like the ocean passing right through you." But this is as nothing compared to the 216-ton Tsar-Kolokol in Moscow's Kremlin.)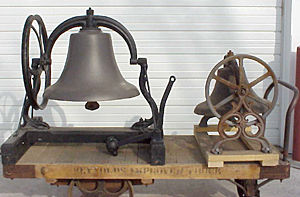 Brosamer's Bells is the largest company in the United States that specializes in pre-owned bells. They have a sizeable collection, as you can see on their website, and they're interested in both buying and selling-- so they'd be good to contact if you want to sell your old iron school bell or fire bell and replace it with a genuine Pyatkov Bell!
The BRG Carillon Bell System has everything you need– a Color Monitor, Controller, 100 Disk CD Player, 1,200 Watt Power Amplifier, Speakers, Radio Remote Control and nearly 2,000 bells, chimes, and hymns. It comes in an optional heavy wood cabinet which can be closed and locked.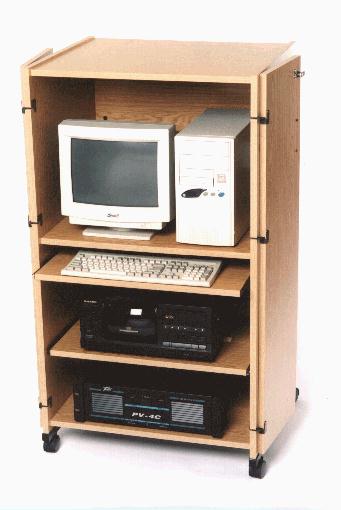 The Outdoor Speakers include fiberglas horns with heavy duty, industrial grade power drivers, are mounted on an integral swivel mount, and can be exposed to the elements. A Full Function Hand-held Radio Remote Control is included for when you don't know the precise ring time in advance, like at weddings, funerals, etc. You can play any song or group of songs directly from the remote control. The carillon is table-top plug-and-play. An Optional Atomic Clock allows you to calibrate the carillon's clock chime from the U.S. Atomic clock located in Ft. Collins, Colorado, and when the carillon chimes the hour, the community will recognize its accuracy. These electric bells will give your church a presence in the community that people can rely on. "All I had to do was call the factory toll-free and tell them how I wanted the bells to ring. They connected directly to the carillon over the telephone line and configured the play schedule I wanted in just minutes." Claims BRG, "In just minutes, you'll be enjoying the beautiful and majestic sound of real cast bells." –Well, no offense, but maybe not!
Carillons: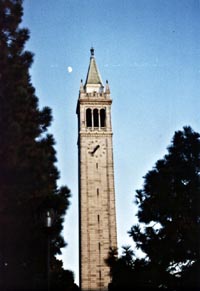 Links to North American carillons, including the 30-story Sather Tower Carillon at the University of California at Berkeley, just across the San Francisco Bay from Expanding Edge! "The instrument is in concert pitch, and fully chromatic from low G to G five octaves above."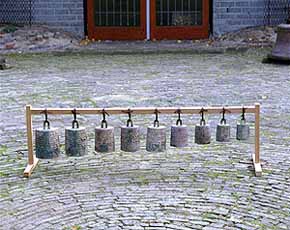 And speaking of carillons, see the Guild of Carilloneurs of North America site, which also has excellent links pages.
The National Carillon Museum of the Netherlands, located in Asten, the Netherlands, boasting "the greatest collection of clocks and bells in Europe". Together with the Natural Historical Museum De Peel it forms the Carillon and Natural Museum of Asten. With a ticket you can visit both the museums and the beautiful garden. Conducted tours and a film can be arranged.
Mexico has its own bell-ringing traditions-- read about them at this site!
And the Online Ringing World-- a weekly journal for church bell ringers in the Western tradition, includes technical articles on the sounds made by bells, and also a good article on dealing with complaints about bell-ringing.
Tone Wheel and Tone Cabinet Service Company by carillonringmaster
Hammond Organ, Leslie Speaker/Tone Cabinet, and Vintage Electronically amplified Carillon systems. A representative for Johannus digital pipeless organs -- Los Angeles

Carillon and Chimes List by carillonringmaster

This mailing list is for the exclusive use of Carillon Systems, and Amplified Chime Systems, Chronobell, Vibrachime, Magnabell etc. Systems, operation, technical information and expertise, sources of parts, Automated Chime Systems, and the playing technique of a Carillon by a Carillonneur.
Musicom Limited's Programmable Carillon by tmierau
This site provides information about Musicom Limited's programmable carillon.
Carillons en Pays d'Oc by buglose
Association about the carillons of the South of France
Grand Carillon de 60 cloches de Buglose by buglose
Description, sound and video about the carillon of 60 bells of Buglose (Landes, FRANCE)
Dutch Carillon Towers by pd0lqa
Dutch Carillon Towers
Petit and Fritsen Royal Bellfoundry by klokpetit
Petit and Fritsen Royal Bellfoundry AD 1660 is a well known Dutch manufacturer of complete carillons. The bells are tuned perfectly on the 5 different harmonic tones. This makes the sound of the Petit and Fritsen carillons the best in the world.
El Gremi de Campaners Valencians by gremicampaners
The art of carillon in Spain, related to traditionnal bellringing. Carillons were associated at the beginning to Royal Palaces, but there are now half a dozen playing in Spain.